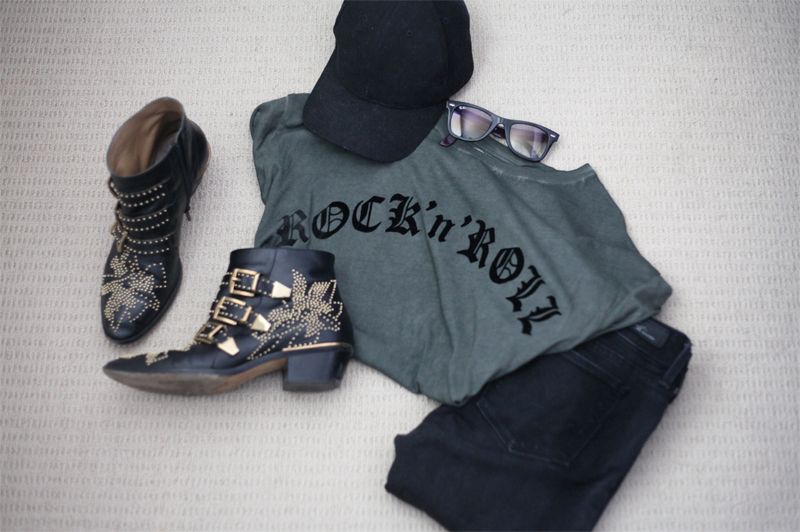 Continuing on in my Capsule Wardrobe series... last time I talked Casual, Work and Cocktails, read it
here
.
EVERY DAY
Jeans and a t-shirt, simple, comfortable and accessible.
Anyone can wear this, and should feel free to.
I probably wear these boots too much but I love them. I twisted my ankle the other week, and have only attempted heels once since, these semi heel boots have been saving me. They are loose, a good heel height and great quality.
Truth be told, my love of rock music, is something I tend to want to share with the world. I never know who any pop stars are, it takes a long time for me to work out who the big artists are (more than a year before I worked out who Lady gaga was- not kidding). Rock though- I am all about that.
Chloe Susanna Boot
s, Zara Tee (
similar here
),
Cap
,
Levis Jeans
,
Ray Bans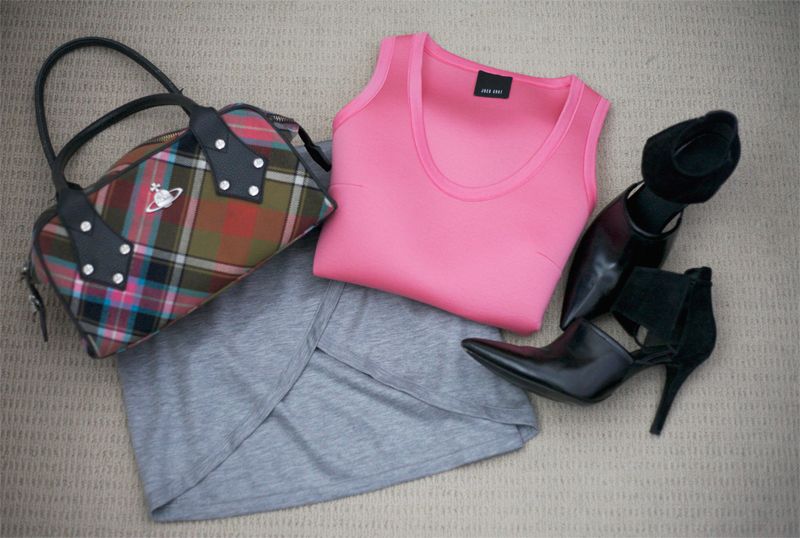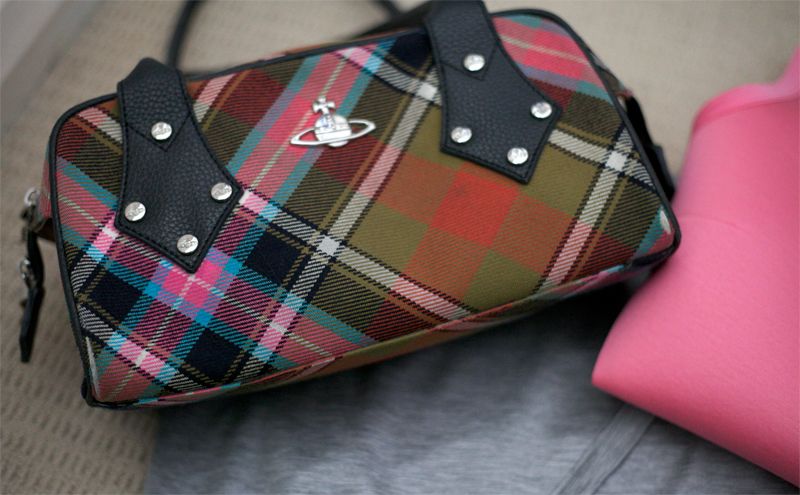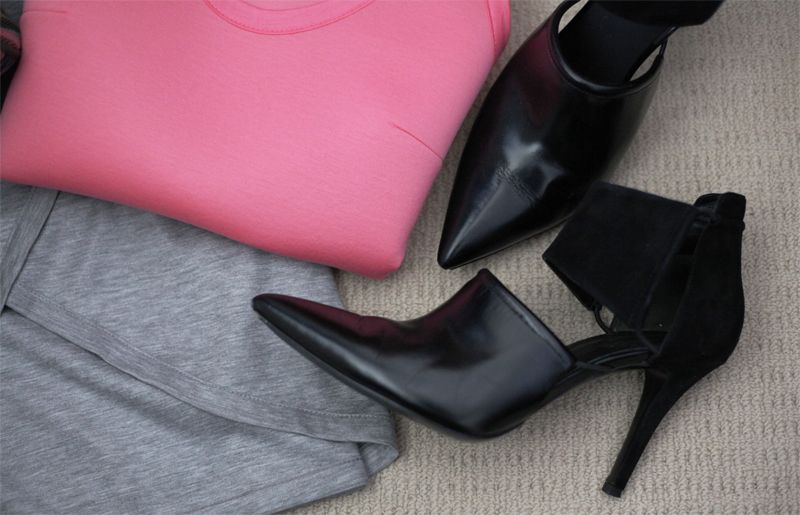 MEETINGS
I have worn a variation of this to work, then to fashion events, and meetings. It is a good outfit when you have to go from one thing to another without time to change.
I love a pencil skirt, and pairing it with grey marle and an interesting hem line? Love. I like that I can throw this together with a white or black shirt, blazer, or a block colour for something different. I know grey is a bit of a nothing colour, (as talked about
here
) but it goes well with everything, so any piece of clothing in grey is good in my books.
Neoprene is not for everyone, but personally, I can't get enough.
For some reason I do like to wear pink, (despite what Karl says), it makes a nice change.
This Vivienne Westwood bag I have had for YEARS, it fits a lot in, the plaid somehow manages to work with a lot of outfits- I particularly enjoy when it clashes with the rest of the look (to an extent- I won't pair it with yellow). I talked about these heels last time- prepare to see the same items a few times, capsule wardrobe and all.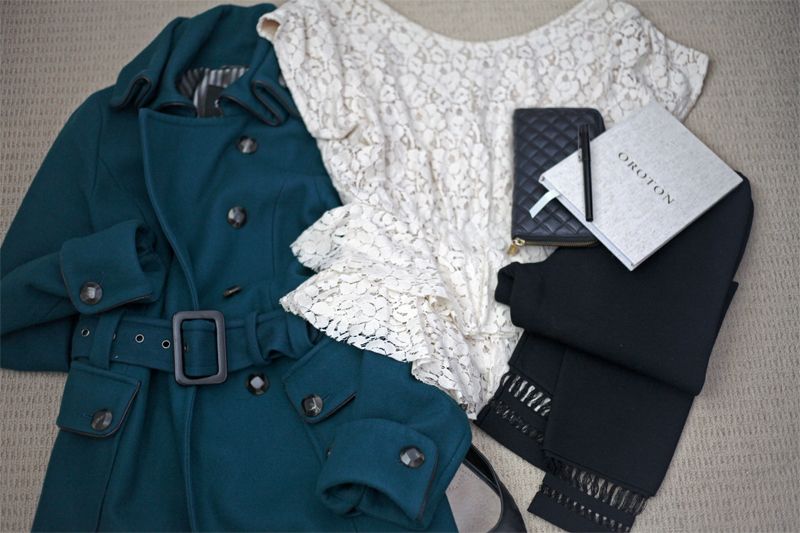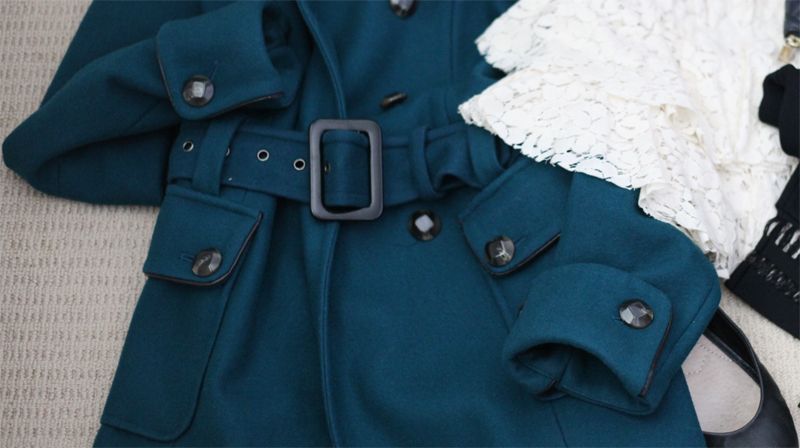 WINTER
So it does get cold here, and this teal coat has been my favourite winter coat for years. I spotted this one in Madison magazine then hunted it down from Sportsgirl of all places, back in 2008. Teal is a beautiful colour, in small doses. I am a sucker for military inspired coats, this one fits like a glove and keeps me warm.
These Italian wool leggings are warm, feel beautiful, and tick a few sporty boxes.
Pairing them with an oversized shirt, or this lace top makes it feel less like I am wearing leggings as pants. :)
Sportsgirl Coat,
Flannel Lace Top
,
Alexander Wang Leggings
, Ballet flats, Mimco Quilted Wallet, and Oroton Notebook.
xx Nell