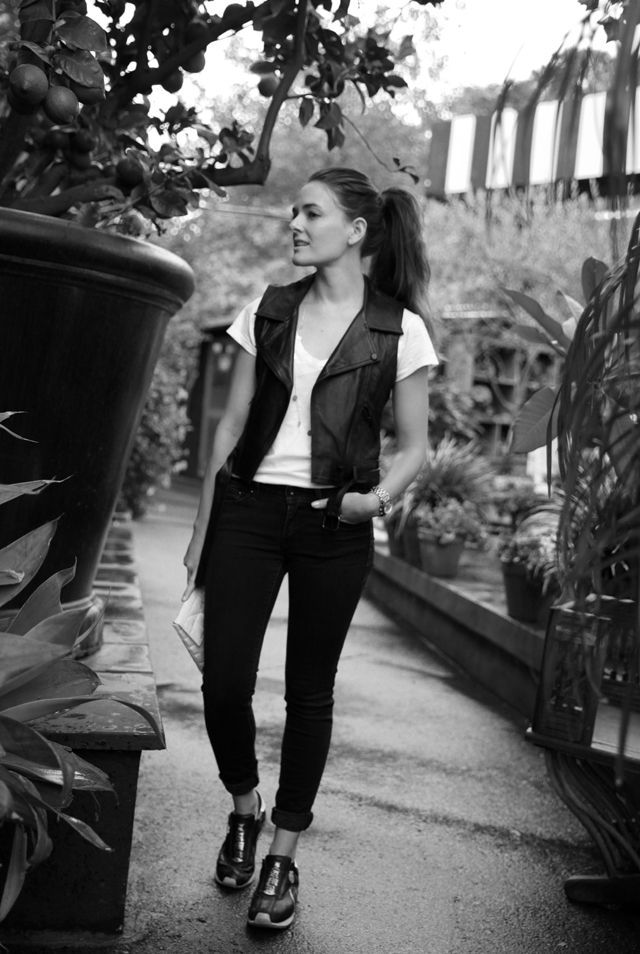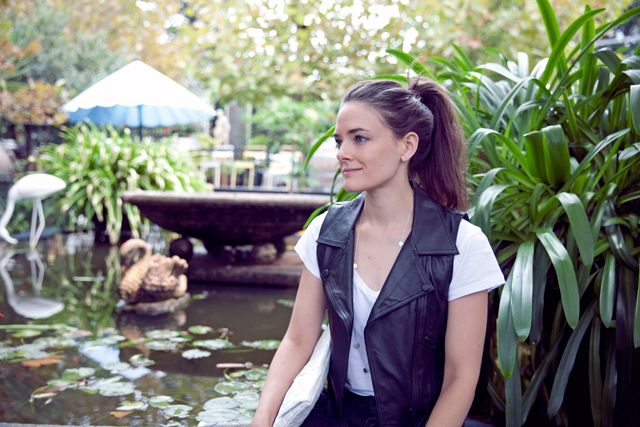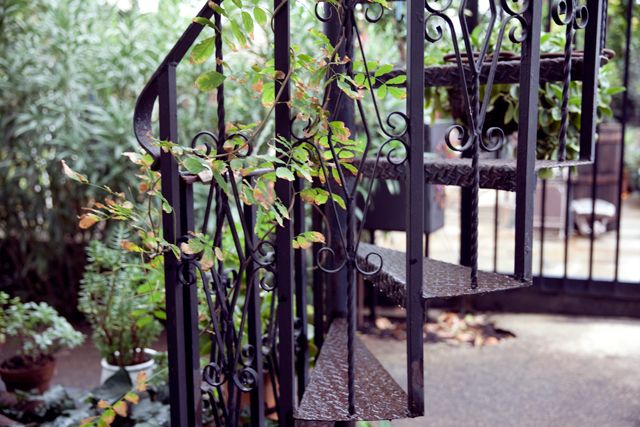 Bruug leather vest,
ASOS white t-shirt
, Lee jeans, L.A.M.B by Gwen Stefani sneakers,
Katherine Dunmill bag
,
Misuzi necklace
As you will have no doubt read, a little over a week ago some of the Perth fashion bloggers got together to sell off some preloved pieces from their wardrobes. On that particular day, there were promises of light showers and a warmish temperature. Knowing I would be outside on my feet all day I thought I would wear one of my regular go-to outfits, jeans and a white t-shirt (see-I said I would share it again!) with sneakers. There was and is no way that I will wear heels if I know I will be on grass or soil. I care for them too much! Think what you may about the current normcore trends bringing everyday clothing to the runways and street style snaps across the globe, I do not mind this sneaker and denim pairing for comfort or even style. With the hems cuffed a little it works without making your feet look too heavy, but I must say I still prefer to stick to the neutral pallet of choice- I am not going to wear a neon sneaker thank you very much. So that is my tip- stick to neutral sneakers and cropped jeans. The rest? Up to you- for me the white t-shirt does the trick, and this leather vest kept the rain off just enough.


Continuing this weeks theme of pairing a rarely worn item with a white t-shirt and regularly worn item… come to think of it I have worn this vest a few times, and it goes with more than I had expected. Vests can be tricky, or feel unnecessary, but they work for in-between weather and layering. It is safe to say that black jeans are high on rotation for me (I would also say they were my unofficial uniform), and sneakers are a bit of give and take. For comfort, they are obviously great, but honestly I wear my converse or skater style sneakers a lot more than these jogger sneaker styles.


We shot these photos between coffee at a cafe down the road with what is obviously an incredible garden. Through a labour of love, keen eye and green thumb, this place ensures you feel like you have stepped outside of your everyday and into what could be a holiday resort destination. Situated on one of the busiest roads in Perth I am surprised more people do not know about it.
Shots by Mario Recchia
xx Jenelle