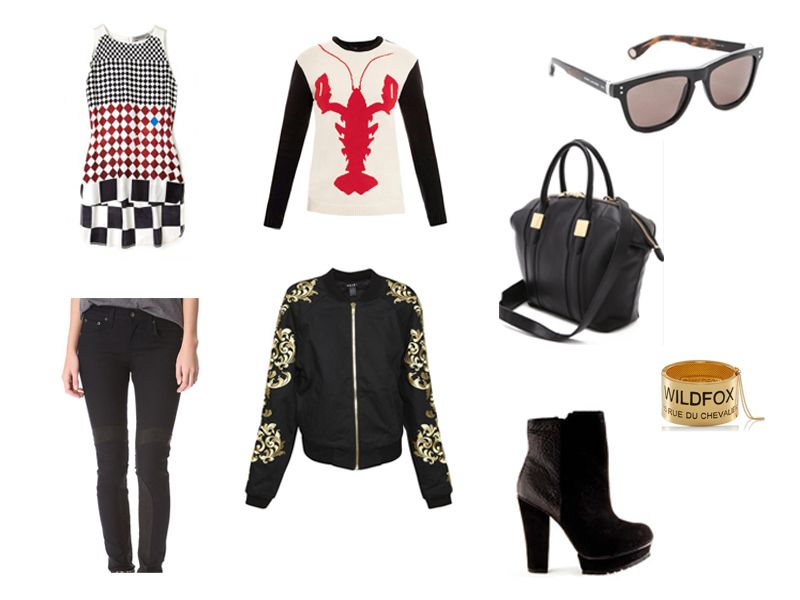 This is what is on my list for Autumn/ Winter 2013... so far.
The palette is made up of black, white, grey, blue, gold and red.
Details include a little beading, leather, embroidery, sequin, graphic prints, statement jumpers, a bomber jacket, simple coat or trench, ankle boots, gold cuff, clutch or carry all.
In winter I can so easily just wear black, but the pops of colour, the dark red, or green make it feel less gothic or moody. This year I will aim not to dress solely in black.
The Ethos
, a new online accessories store based in Perth, are stocking a beautiful range, including beautiful Rachel Zoe totes and clutches to lust after. Actually, they seem to be selling out so fast, I am assuming they are finding it tricky to keep them in stock.
The Ethos
also stock designers such as Shakuhachi, House of Harlow, Wildfox, LifewithBird, Sol Sana, Vintage Princess, local label Three Anjewels and more. Not only are the pieces classic, elegant and beautiful, they are staples to add to any wardrobe. I can never have enough clutch bags, they are just so easy, not unlike the trusty pencil cases we all carried for years growing up, you can make your life fit into them- only if for one night at a time. The beaded detail of this Shakuhachi clutch is stunning.
I am in love with the perfected understated elegance of this
Rachel Zoe Morrison Tote bag
, which comes in a black or beige in matte or patent leather. For some reason I have never had a black handbag, and yet I wear so many black shoes, hats etc. I can see this as being the perfect new camera bag, which would mean I no longer have the excuse that my bag was too small to carry my camera along.
Other noteworthy pieces I have come across of late include these fun sweaters, with a slightly unexpected graphics (I love that the teeth in the lips sweater have a slight gap). Perhaps the 80's child in me is why I love a bangle or cuff, this Wildfox one is simple, but packs a kick.
This gorgeous blue Carven flip skirt is so fun. It feels a little flirty and girly without being too cutesy or sweet. The cut does hug against curves, and I think is balanced out with a jumper or bomber particularly as the weather gets cooler. The graphic print of this long sleeved Sportmax tee is so pretty. I love wearing blue and white together, as much as I do gold and black. I have also noticed that I am obsessed with all things Sportmax; they even appear to be more desirable than Acne.
Ankle boots, thick strappy heels, simple glasses and detailed jeans are all just essential.
Nell. xx