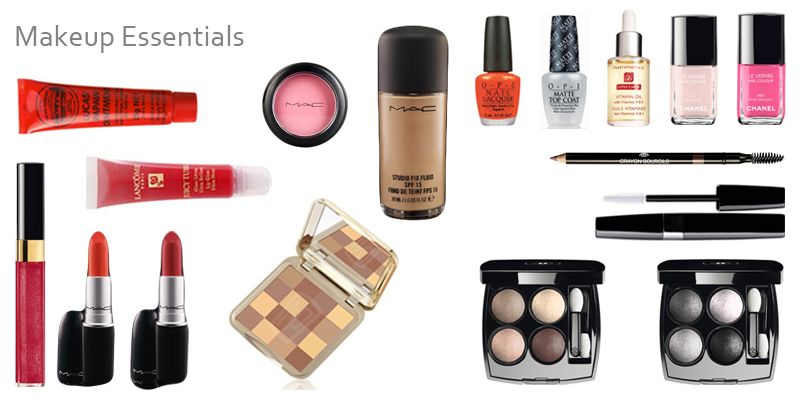 Left to Right:
Lucas' Paw Paw Ointment
Chanel Lip Gloss Scintillantes
MAC Matte Lipstick in So Chaud
MAC Matte Lipstick Ruby Woo
Lancome Juicy Tubes in Fraise
MAC blush pot in Pink Swoon
Napoleon Bronzer Powder Compact
MAC Fluid Fix SPF15+ Foundation
Chanel Eye Shadow Pallet in Raffinement
Chanel brow pencil
Nutrimetics nc Vitamin Oil
Chanel Intimitable Intense Mascara
Chanel nail varnish
Chanel nail varnish
Chanel Eye Shadow Pallet in Smoky Eyes
The fun stuff!
As a girl, I could not wait to play with lipstick, nail polish, eye shadow and the like. Colour!
These days I like to keep things pretty simple, natural and fresh.
To learn new tricks I go and get my make up done often and ask a lot of questions, everyone has a different tip, trick and method. I guess since I grew up painting from an early age, I am confident with a brush, contouring and colours. Someone once commented on my portraits, and I had to point out that I paint a 3D canvas almost everyday... my face. I don't think I am all that flash with make up, but I have trained in makeup courses, so I have some idea of what I am doing.
So the process is this... after moisturising and priming, if I am wearing foundation (I often don't- or instead use a tinted moisturiser with an spf) I paint on a small amount of foundation, the MAC SPF 15+ Studio Fix Fluid is my favourite for special occasions- fashion shows etc (I always use brushes and clean them often to keep them germ and oil free). I use a touch of concealer on my eyelids as a primer (never foundation as it is too heavy), conceal under the eyes, and a tiny bit above the lip, and blend this in. Only put concealer over foundation and make sure it is blended in correctly. I didn't add it to the collage above, but I find that Yves Saint Laurent's famous Touche Eclat is good. One is sold every ten seconds around the world, and there really is no comparison. It is illuminating and beautiful.
I tend to use bronzer, to sculpt the face and because it is flattering to my skin tone/ hair. I have used a Napoleon one for so long, but I just dropped the compact and it is mostly gone now, so I need a new one. I was happy with that one, but I might shop around before I get a new one. If you can recommend any let me know. Sometimes I will add a touch of blush to the apples of my cheeks as well.
I always tap the brush before applying so that I do not get a heap of concentrated colour on the first touch.


Next I will shadow my eyes, I tend to use a light colour across the lid and work a dark shade along the lash line and right hand side of the crease- like a v-shape. Then I will use a third colour on the centre of the lid, blend it all in, and add a white illuminating shadow under my eye in the centre to open them up a little more and under the brows. If I am going out to some thing I will illuminate the eye bone, and the top of my cheeks too. I love the Chanel eye pallets, they are so good.
I am not really into liquid liner, I trust a sharp pencil instead- sharpen pre-use every time. I pull back the eye lid (to the side! That sounds so weird!) and draw little lines one way, starting with up, then go back the other way flicking the pencil down. There is usually a few tiny gaps, so I come back across to fill those in. I fill in my eye-brows because I plucked them as a teenager, and they never came back, (plus I watch The Blue Lagoon all the time so am constantly envious of Brooke Shield's brows). Then I prime my lashes, then coat with mascara- I really don't need to curl them as they already are so long and curly that they sometimes reach back and touch my eye lids, so curling them just feels like overkill.
An interviewer once commented that upon meeting Mary-Kate Olsen, that she was tiny, but her eyelashes felt like they took up half the room. I loved that.
A good mascara can work wonders, I have tried so many, and while mine are naturally long, I love the Chanel Intimitable Mascara range the most.
For lips, I prime them first, to ensure the colour lasts as long as possible, then pencil across the lip, just using feathery strokes. Finally I will line the lips, and using a brush fill them in with lipstick. I think the brush is the best tip. You can control the colour more, as the shape of the stick changes so much, sweats in summer and can break upon impact too easily. The better lipsticks I have found are MAC, Chanel, Tom Ford and Yves Saint Laurent. I love all of those, and I wear a lot of reds. Bright reds.
I am not really into shine or sticky gloss, so I will only add a touch to the centre of the lips, not all over. I have used the Lancome Juicy Tubes glosses for years, so I have a ton of them.
I know some manufacturers cram glosses with chemicals which dry out the lips, so you apply more, and in turn buy more. That blows. The skin on your lips is delicate, and deserves care. Over night a lip treatment works wonders as you sleep, I apply an Aesop lip treatment or even the trusty paw paw ointment (or Burts Bees).
Nails... Use a sapphire file, to prevent chipping, a good quality one will last you forever. Push back the cuticles, massage in some vitamin oil, I use a Nutrimetics one, but Bio Oil is also good. The apply a base coat, two coats of colour and a top coat. I prefer a matte finish to gloss and hate pearly nails so the O.P.I. top coat is perfect. I like the range of O.P.I. colours, and the brush is a good size. Chanel always produce key colours each season, some that are so covetable that they sell out.
I love to pick one up as a little treat.
Finally a smile and that is it. Phew, that was a long post! Thanks for baring with me if you read this far.
Would you believe I can be done in minutes? Yep, makeup takes me as little as a few minutes from A to Z if I want it to, but at other times, I take my time and play. It is fun.
That is it for my Beauty Essentials posts, but I loved writing them, so I may do a few more Beauty posts down the track. Possibly with more of a natural product focus.
xx Nell.
Facebook
/
Twitter
Instagram
/
Pinterest