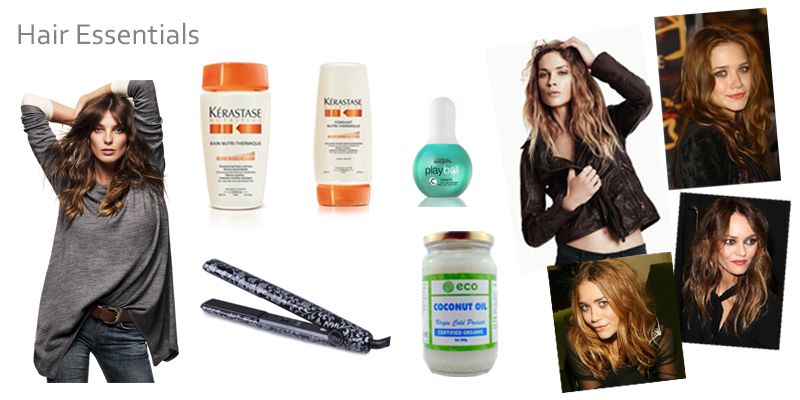 Kérastase

Nutritive Bain Satin Shampoo
Kérastase

Nutritive Lait Vital Condishioner
L'Oreal Professionnel T

ecni.art Play Ball Beach Fizz
Hair care and styling for me is pretty minimal. I love long hair which is slightly unkept, a touch messy, wavy and loosely curled. My hair parts naturally in the centre, and doesn't take to well to accesories. In that I mean that they fall out, clips slide out and litter the floor, unbeknownst to me.
I am not really one to do much with my hair, nor experiment much further than with shampoo or conditioner. For years I dyed it, probably in rebellion of going to a private school, where I had to be natural and I just wanted to do something different. It has been blonde, red, pink, black, copper, orange, and all sorts of shades between. I realised at one point that being brunette in winter and blonde in summer was expensive and not so healthy. So I finally let it grow out, which led to some nice ballyage for a little while, but as it is now, is 100% natural, virgin hair. I get it cut about once a year- I should go more, but I just don't care to.
I have tried SO many shampoo and conditioner brands, and find that the

Kérastase

Nutritive range by L'Oreal Paris is the best for me. As I don't go into a salon very often, I like to ensure that I am using a product that works well for me. Pre-wash I will sometimes massage in coconut oil and leave it for half an hour before washing.
I have never been someone to add volume-root powders, dry shampoo or anything else. As long as it is relatively clean, simple and heat protected it's all good.
As you can see from the images above, which are the same images I take in to the hairdresser each time to say- "I want this style"it is pretty much a messy wave deal. I tend to let my hair dry naturally, then blow dry a little if needed, add

Kérastase

Nutritive Nectar Thermique which is a great protection product, then curl using my GHD straightener. Once I have curled it I brush it out to form waves, spray in some sea salt spray, scrunch and go. I top it up with a little bit of hairspray if it looks windy, but I don't mind it dropping out. Once it looks awful I can always chuck it up in a pony tail or bun anyway.
Over a year ago I chopped my hair off into a short crop and hated not being able to put it up in a pony tail. I liked the look, but it suited straightening more and I don't really love having straight hair. It is okay every once in a while, but curls and waves are sexier. Just look at the Victoria Secret girls (I die for that hair styling) big, bouncy, flirty, fun curls are just hotter and more passionate.
Poker straight hair on me looks unnatural and sometimes dirty.
When in Perth I visited Head Studio, which is probably one of the coolest places in town. I booked an appointment online (so handy). They led me in to sit in the waiting area, where they offered me a coffee from the amazing smelling barrista coffee bar. I was trying to think of how I wanted it cut, and how to explain "I just want to look like Erin Wasson" when the stylist came to find me. Uh, this woman looked like a copper- headed version of Erin Wasson, and I almost had to say, "Um, I want to have your hair." Awkward! Needless to say I knew I was in safe hands, and the results were just right. She curled and messed up my hair by twisting it as she blow dried- which to me was like some kind of hair-stylist magic. They also stocked all of my L'Oreal products of choice.
Now I am back in Adelaide I have to find some where new to go, so if anyone has suggestions, hit me up!
I still have a Makeup Essentials Blog post for you to come in my Beauty series.
If you have any hair tips/ tricks to share with me please do!
Much love, Nell. xx