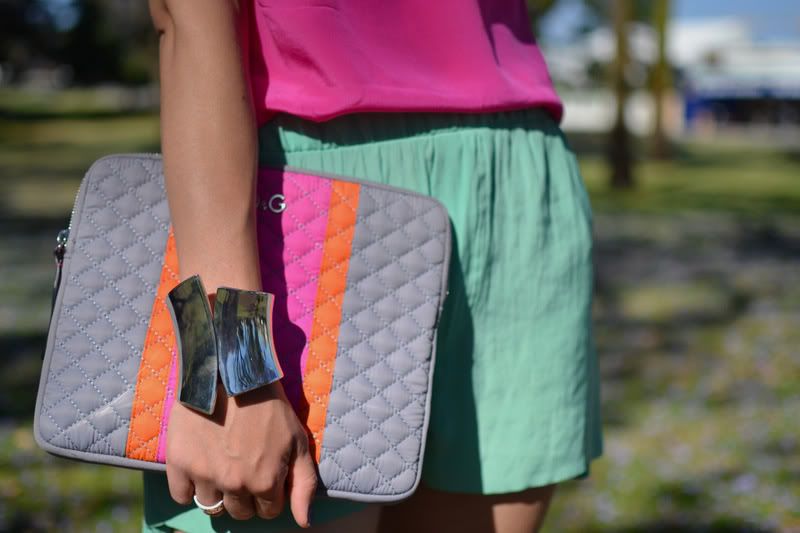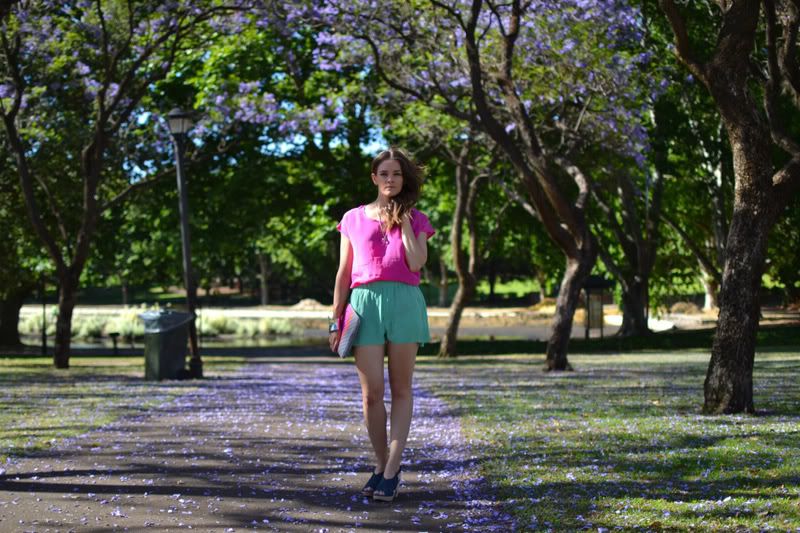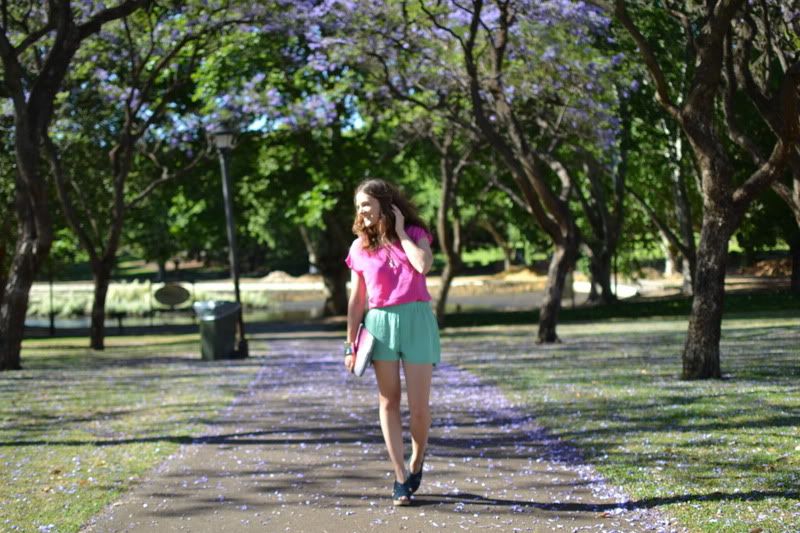 The Black Out Challenge has begun and I am going for it.
On day one (yesterday, I will be blogging one day behind but instagraming as I go) I wore this silk tee from Sportsgirl, which I actually could not wait to wear. The brightness of the pink is a little punk, and one of my favourite colours to rock.
During the day I teamed it with these Acne mint shorts, which for the office I later swapped for a creamy pencil skirt.
Had to shoot at our park, since these jacaranda trees are so pretty right now.
Big thanks to the lovely Heidy of
lovethymuse.com
for taking photos for me.
So happy to be neighbours with that lovely lady.
I just moved, and being obsessed with trees, gardens and coffee, I am now in the perfect spot for all that and more in Perth.
Colour meanings:
Day One
Pink:
Promotes feelings of unconditional love and understanding, caring, tenderness, self-worth, and acceptance.
Shades of deep pink, such as magenta, are effective in neutralizing disorder and violence. Some prisons use limited deep pink tones to diffuse aggressive behaviour.
Pink is f
eminine and romantic, affectionate and intimate, thoughtful and caring.
It tones down the physical passion of red replacing it with a gentle loving energy.
Pink is intuitive and insightful, showing kindness with its empathy and sensitivity.
Mint:
Is known to encourage peace, calm, harmony, balance, focus, growth, renewal, health and environment. It is one of the easiest colours for your eyes, promoting rest.
A healing colour, mint green paired with a bright like pink is a lively combination.
Wearing:
Here is a sneak look at Day Two...