During the 1920s Chanel created a little black dress which popularized black dresses for women. After her lover Boy Capel died in 1919, Chanel wore and made black dresses inspired by the women in mourning she had seen in the French villages as a child. In 1929 Vogue printed an image of one of Chanel's black dresses in their article on Parisian Fashion. Implying the popularity and instant long term appeal of the 'LBD', Vogue dubbed the dress 'the Chanel Ford', linking it with the popularity of Henry Ford's Model-T motor cars.
Ford was known to have said "any customer can have a car painted in any colour that he wants so long as it is black".
Practical, flattering and sophisticated, the little black dress could carry women from the afternoon through the popular cocktail hours. Made from crepe de chine, the 'Chanel Ford' dress featured a slashed neckline, a bodice that bloused slightly at the front and sides, a tight bolero at the back and diagonal pin-tucks across the front. It was simple, elegant and very in keeping with the modern way of life. Over time the dress grew to become a staple in the wardrobe, as women heeded Chanel's advice.
"One is never over nor under dressed in a little black dress."
In 1961 the world went a little mad for the wardrobe of Holly Golightly, elegantly portrayed by Audrey Hepburn, dressed in Givenchy for Breakfast At Tiffany's. Personally this one is my
favorite
. Adopted each generation in a different way, the little black dress is
synonymous
as the essential item in a women's wardrobe. Today it can take you across any occasion, it can be styled simply or paired with accessories. I love that a black dress offers a reliable outfit in my wardrobe that I can turn to knowing I will have something to wear, no matter the occasion. Somehow, even wearing the same one again and again, (something a little taboo of a printed or coloured dress) is not an issue. Should you choose to wear a little black dress again and again, it is simple attributed that you have 'style', are 'classic' and elegant.
Cue The LBD. New to Australia, The LBD is a manufacturer and online retail boutique with a unique concept certain to revolutionize how women source and select their perfect LBD. Finding the perfect LBD until now, could prove to be a challenge. Fit, price, availability and seasonal collection changes all conspire together to make it a challenge to find the right one for each woman. Over the past 12 months, the design team at The LBD have been crafting the capsule collection, built around classic, timeless designs to create a versatile foundation wardrobe. Each LBD is available in styles to enhance the individual customer's assets. These days the average Australian adult female is an average size 14, but the LBD designed to suit body shapes rather than label sizes. Adapting necklines, sleeve and skirt styles and hemlines, there is a whole range of silhouettes to choose from, each dress is made of trans seasonal high quality fabric for year round wear. The site also features a unique Dress My Shape Guide complete with a shape guide and calculator. Each dress has been sized against its counterpart, meaning the sizes remain the same no matter which style of dress you choose. I personally find the un
standardized
clothing sizing system in Australia to be extremely frustrating. I am a size 8, no a 6, no a 10... or all three, depending on a garment or brand. Not with The LBD! I calculated my size, and it fit perfectly.
I will share my outfit post in the dress I chose in the coming days, (below is one of my styling boards I have made up featuring it) but in the mean time, I thought I would share a link to The LBD so you can check it out. I can not stress enough how useful a little black dress is in building your capsule wardrobe!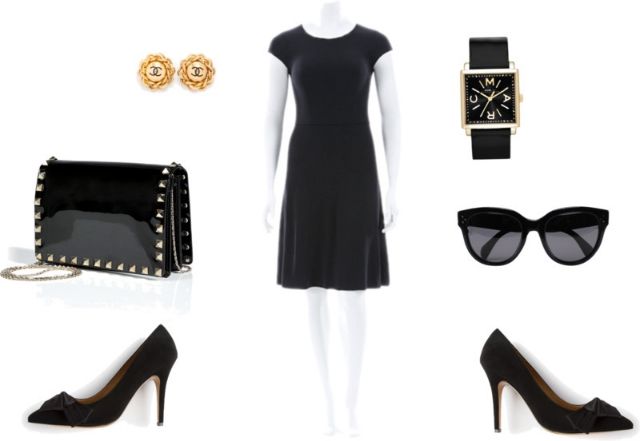 If you have missed any of the 'Building A Capsule Wardrobe' series, check out the previous posts
here
.
I will be bringing you more of this sort of post in coming weeks, so stay tuned, and please share any comments or ask any questions below.
Happy Capsule creating!
xx Jenelle