I will confess something, at one point a few years ago I had accumulated more than 100 dresses. They took up one entire wardrobe, and I wore little else. These were for day, night, dressy or casual occasions, work, or just simply amazing vintage finds I had to hold on to.
This life of excess did not bring me any closer to being ready on time to go out- or solve the issue of finding the right thing to wear. I needed more shoes, bags, hats, jackets etc to go with them. It became a nightmare. I had different prints, patterns, colour, shapes, styles, fabrics… you name it.
At one point something had to crack, and they had to go.
Sometimes now I realize that at times, I dress like a boy. I don't even mean to, but I look down and, there it is- long shorts, an over-sized t-shirt and sneakers.
I do however love to wear dresses. This is where I find my feminine balance. Dresses can if chosen correctly, save you time and make you feel confident.
When writing about the must have dresses in a capsule collection, I realize it all comes down to personal body shape. For that reason I have made two lists and collages, one for my body shape (see above) and one as a general for other body shapes (see below).

I have a small waist, and try to emphasize this. I have a small bust and tend to try and direct more attention toward my legs, rather than chest. In an ideal world, I would have a 20cm longer torso, and my bust would be a little bigger to create the 'perfect' proportions. I would also have better eyesight and not have scoliosis. Rather than focus on what I do not have, I dress with my shape in mind, and can at times create the illusion of a well proportioned shape. I like dresses to come in at the waist, and generally flare out a little, like a skater skirt (but not too hugely a la Dior's The New Look, that's too dressy for me). A non clinging pencil skirt I am down with (without showing awkward under ware lines)- it has to sit right. I also prefer to share my lower legs rather than upper, so for the most part most hem lines finish slightly above or below the knee. If I do wear a shorter mini length dress, I try to balance this out with a longer sleeve length. I don't mind showing off shoulders, but tend to vary sleeve lengths to balance out a hem length- it is all about sharing the right amount of skin.
In my capsule collection I house a number of beautiful occasional dresses- mostly of silk, or beautiful french lace, which I spent far too much on, but try to make the most of. I think here is where the cost per use thing is completely imbalanced, as unfortunately I do not wear these many times each per year. I find it too easy to scope out beautiful occasional dresses. Really though, you only need ONE killer cocktail dress and one LBD! Finding good everyday dresses is a little bit harder, but staple shirt dresses are flexible for multiple occasions and t-shirt dresses are relaxed and comfortable. I
try
to avoid synthetic fabrics- like nylon and polyester, but will admit that some of my favorite Lover dresses are made from Poly (please switch back to a better fabric!). This means I can not wear them in hot weather, as those fabrics do not absorb water- meaning your body can not breathe and sweat gathers underneath the fabric. Just look at the care label before you commit to buy and bare this in mind.
My breakdown of the
'Must Have Dresses For Any Woman' (My body shape-- collage above):
- 1x White Cotton Day Dress (embroidery or some detail make a nice touch)
- 1x Grey Marle T-shirt Dress (roomy, comfortable and perfect all summer)
- 1x Black Lace Dress (Handy to have ready to go for any special occasion)
- 1x Cotton Shirt Dress (tailored at the waist is nice to add shape, stick to a neutral colour)
- 1x Chambray Everyday Dress
- 1x Cocktail Dress (make sure you invest in a well fitted, comfortable dress in your best colour)
- 1x Striped T-shirt Dress (a classic sporty or slightly nautical look for everyday wear)
1x Beautiful Skater Dress (can be styled up or down for dressy or casual looks)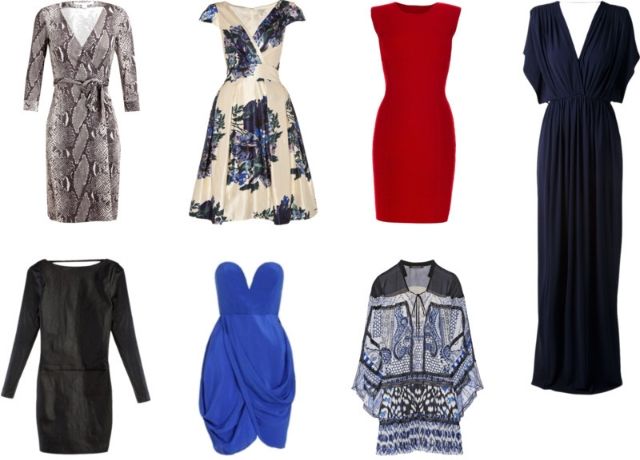 My breakdown of the
'Must Have Dresses For Any Woman':
In the second collage (above), I found dresses I think are good staples for women of curvier body shapes:
A v-neck on a slightly bustier woman can be really flattering, particularly when paired with an elasticated or tied waist. The floral print and snake print dresses below both also use a print to keep the eye moving rather than settling on a block colour. Choose patterns which draw the eye across the body, rather than in premium curved areas where the eye may rest for the wrong reasons. The wrap dress, when worn with the right shaping underware, will smooth out the silhouette, again hiding bumpier areas, same goes for a body-con dress like this red one. The red body con dress below works for a lot of women who aren't afraid to show off curves.
A maxi dress on a woman taller than me (in my opinion I do not wear many of these as I am so short that they swamp me a little) looks amazing, worn with sandals or a slight heel. Again I chose a v-neck here to demonstrate how to show off curves and an elasticated waist to draw that in comfortably.
For a woman with killer legs, the black mini dress with long sleeves is perfect for showing off her assets, without overdoing the skin sharing on top- balance. ;)
The curved strapless dress style, paired with a draped hemline can look amazing on a curvier woman (my hat goes off to you if you can hold this up without your bust falling out- it's a fine line!). Finally a patterned tunic dress is bohemian, suits all body shapes, can be thrown over swimwear in summer or tights in the cooler months. Love it.
Have any 'finding the perfect dresses tips'? Please share them below!
If you have missed any of the 'Building A Capsule Wardrobe' series, check out the previous posts
here
.
I will be bringing you more of this sort of post in coming weeks, so stay tuned.
xx Jenelle