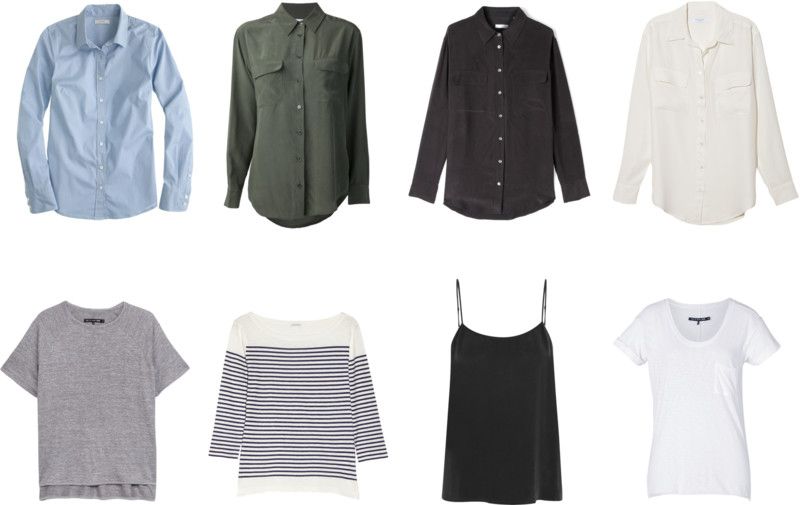 Having a wardrobe of shirts, in neutral colours is utterly essential. We know this, we are taught that wearing shirts is important and professional from an early age. My telling you this is not groundbreaking news. If you are anything like me though, you have a love / hate relationship with shirts. I hated wearing stiff, voluminous, uncomfortable shirts as a school uniform. Worse still, mine had an elongated, odd shaped collar, and random wide unflattering pleats running down the front, a few centimeters either side of the buttons. I think this was to hide the fact that some teenage girls had grown breasts, and it was a conservative Christian College, after all. While that was never my issue, I did find that my Mum (love her) had chosen to purchase all of my uniform items in sizes far too big at the beginning, thinking I would grow into them. I never did go from a size 6 to a 14. But of course, I had to dress as though I did, meaning my shirts gathered in excess fabric at the back, under the arms, and came down to my mid thighs. At least they were almost entirely cotton, with only a touch of polyester. Any more poly and I think I would have tried to catch Chronic Fatigue. Needless to say, I avoided wearing shirts, and took even longer still to commit to purchasing them after I graduated.
Also I HATE ironing.
Now though, I am aware of the incredible shirt options afforded by decent and even luxe fabrics. From the cotton and silk options to the surprisingly comfortable rayon / viscose, lyocell, hemp and other manufactured fabrics. I avoid nylon and polyester fabrics wherever possible, which are simply gross. They do not absorb water, so they cannot absorb your sweat, trapping it in underneath the fabric. Why would you want to wear that? Or worse still, sleep on sheets made of that?!
I know that cotton manufacturing uses a lot of harmful petrochemicals, in fact the World Heath Organization attributes 20,000 deaths annually due to pesticide poisoning in developing countries. Some frightening numbers, no? Here in Perth all I hear about is the threat of sharks killing us as we swim! Having said that though, achieving organic certification is not an easy task either. I think for my own piece of mind, further investigating is due, as I have not often solely sought out eco-friendly brands for clothes before. Baring this and the safe manufacturing of clothes in mind is quite a lot more to consider, and another article altogether. For now, I have shirts from a few brands I feel comfortable in and can recommend for those merits.
As for the other wardrobe essentials when it comes down to tops- it is pretty simple. I love plain cotton t-shirts, I pair them with skirts, shorts and pants. Add in slogan or printed t-shirts after you have these plain essentials covered. Cami tops are a great staple for summer, and under blazers at work. I find them more flattering than wider strapped singlet tops. Either will you through controlled climates in the workplace, as well as a super hot summer day. The biggest thing with a cami top is to ensure the right strapless bra is worn underneath- invest in a good one, and don't skip the fitting! :) Read all about that
here
.
Finally I have included jumpers into this category. I wear a lot of jumpers. They are often the thing I am drawn to the most in any designers collection, and I have too many. Of course, owning a few staples for the capsule wardrobe is all you need, you will use them more than you expect and when the temperature drops unexpectedly, getting cozy in one is wonderful. A cable knit with the front tucked into a leather pencil skirt? So elegant.
Broken down, here is the list of 'Must Have Shirts, Tops and Jumpers for Any Woman':
- 1x Fitted pale blue shirt, in a chambray, light denim or cotton
- 1x Silk Khaki shirt, Equipment silk shirts are the most beautiful, pricey, but so beautiful.
- 1x Black cotton, viscose or silk fitted shirt, sleeveless is also okay
- 1x oversize white shirt- (a fitted one is for me optional, they are too much like my school uniform so I avoid!) I recently picked up a great First Base oversize white shirt from Peachy, which I love.
- 1x Grey marle t-shirt (I have about 6, I wear them with everything)
- 1x Breton top or striped t-shirt with 3/4 or long sleeves, Parisian, Chanel, perfect.
- 1x Black cami top, preferably able to tuck in, but cropped is okay too.
- 1x White t-shirt, fitted or loose. I wear either, all the time
- 1x Black wool jumper, or cotton sweater. I have one of each, but either are useful
- 1x Cashmere grey jumper- soft, thin but warm and so beautiful. This one is the splurge worth doing
- 1x Light grey fleece zip hoodie, for a casual sporty look. I love mine.
-1 Cream knitted cable weave jumper, for winter, this is like taking a quilt with you for the day.
- 1x Check print shirt (in a blue pattern), go with everything, and give that touch of edge to a feminine outfit
- 1x A white collared blue fitted shirt, for a really crisp mannish look.
- 1x Cap sleeve jumper- on its own or for layering. Pair with boyfriend jeans for a casual get up.
- 1x white cami top with some detail in black to mix things up at work or with a pencil skirt for cocktails
If you have missed any of the 'Building A Capsule Wardrobe' series, check out the previous posts
here
.
I will be bringing you more of this sort of post in coming weeks, so stay tuned, and please share any comments or ask any questions below.
Happy Capsule creating!
xx Jenelle