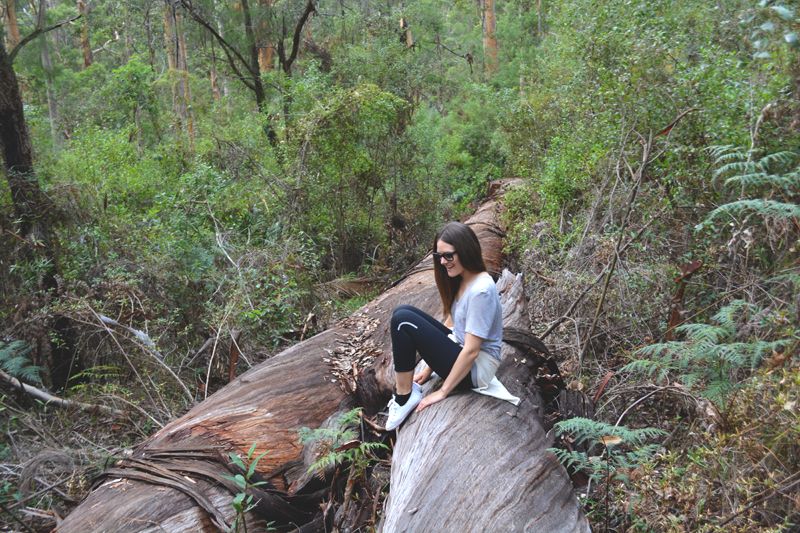 When it comes to trees- being surrounded by them, climbing them, smelling them... I get a little silly.
You can tell, no?
Holiday snaps from the Karri Forests in Pemberton on my recent trip back to WA.
Clearly I am dressed like a dag in what I call running gear. This ain't no fashion post.
I discovered on this trip that I run 'wrong' and when I try to run correctly I feel like a puncy girl. Apparently planting your heels as you run is not the done thing, so I waste energy quicker and burn out sooner. Who knew?
Not me!
My canvas shoes kept absorbing the rain, so I had to wear socks- and I had only a pair of black ones... rookie mistake. Still, whatever, I wasn't going to a fashion parade.
At 61 meters, the viewing platform from this Karri tree is the tallest fire-lookout in the world.
Climbing the metal bars is the funnest thing ever, and it baffles me that people can not handle it- heights are freaking awesome! However, I am probably less into other things that people may be cool with- so each to their own. The breathtaking views over the forests, and beyond are the reward for climbing. As is the freshest air and scent of the trees. On this trip we climbed up each of the former fire-lookout climbing trees and I could not have grinned wider- or refrained from jumping like a loon.
xx Nell.